Recently Released!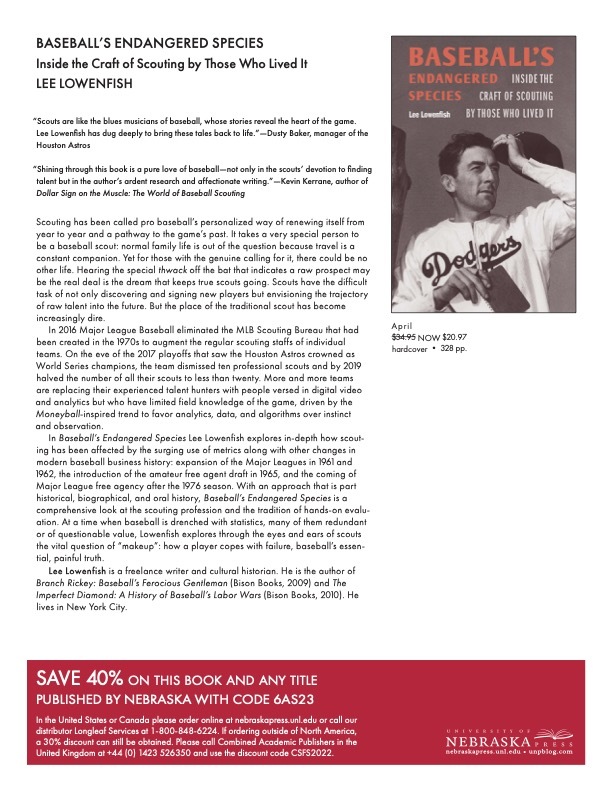 This is a pioneering work in baseball labor history. Covers the Players League of 1890, other attempts to bring market freedoms to baseball
players prior to epochal Messersmith-McNally decision of 1975. Second
edition updated story through 1980s, current edition updates story from mammoth 1994 strike that wiped out World Series through the Mitchell Report on steroid abuse.
Reviews
"Lowenfish presents this baseball revolutionary not as his admirers or his critics (or Rickey) saw him but as he was, and one can ask nothing more from a biography."
–Chris Lamb, Choice

"It's about time people get to know the many dimensions of this extraordinary legend."
–Former New York governor Mario Cuomo (who played for a Rickey-run Pittsburgh Pirate farm team)
"I have recommended your superb book to many people in Baseball as a must read!"
- Baseball Commissioner Bud Selig

"This book provides a vivid description not only of Rickey's life during this time, but of the entire sport itself."
–Anthony Basich, Inside Game

The Imperfect Diamond: A History of Baseball's Labor Wars (Stein and Day 1980; DaCapo PB, 1991)

Reviews

"An important work, not only for baseball history, but also for U.S. history, the labor movement, and the history of capitalism."
–Library Journal

"A dramatic, stirring portrayal of traditional confrontation between labor and management."
–New Republic

"For those fans trying to understand baseball's labor-management underbelly... a more readable and relevant book would be hard to find."
–Louisville Times

The Art of Pitching
(Tom Seaver with Lee Lowenfish, Hearst-Morrow, 1984, 1994)
Reviews
"It's a great book – there's something for everybody."
–Philadelphia Daily News

"Not only the bonus babies of the future, but those old timers contemplating coming out of retirement to try their knucklers one more time can find something of value in this volume."
–People

"As fine a technique book as was ever published."
–Sports Collectors Digest

The Baseball Trainers of Major League Baseball with Lee Lowenfish, The Professional Baseball Athletics Trainers Fitness Book
(Warner Books, 1988).